In this short video tutorial, I show you how to invoke KRename from within Konqueror, and walk through a simple renaming workflow with a folder of images.
Today I'm going to do something a bit different. For once, the tables are turned and I'm asking a question, rather than providing an answer.
You may or may not know that since our 2.0 relaunch back in October last year, we've supported video to accompany posts. You might have seen this one I did about Moodle, or Jacob's excellent look at PiTiVi.
One of ...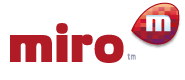 TV. We all watch it. Chances are you might have a DVR hooked up to your TV so you can watch it at any time. If you pay for cable or satellite access, you are probably getting a little tired of those bills as well.
If you're into the 'net, get rid of those bills and get Miro. Miro, while not a service that provides live TV, is an ...
...