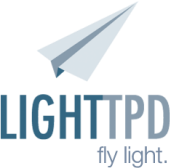 Apache is the world's most popular web server and is a very good piece of software. It isn't however, the only choice of free software and open source web server solutions and it's easy to overlook lightweight alternatives to Apache.
One such alternative is lighttpd. Here's what its official site says about the project:

Security, speed, compliance, and flexibility -- all of these describe lighttpd (pron. lighty ...