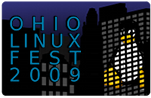 Ohio LinuxFest is definitely one of my favorite Linux and open-source conferences. If you've never been to a Linux conference, now is a great time to begin. If you have, it's also a great time to experience this conference.
The main reason you should go? It's free. OLF is funded by sponsors, so you aren't required to pay to get in (though you certainly can upgrade your conference pass if you choose). The only thing you have to do is register. Registration closes on September 19th, so be sure you're not left out!
From Ohio LinuxFest: Back to the Future of Linux!:
bq.
Don't miss your last chance to register for Ohio Linux Fest! A mere two weeks away on September 25-27, it's coming faster than a Free Software freight train!
…
People come to OLF to meet with others that have helped create things like the backbone of the Internet, FireFox, Linux and the Apache web server. If you come to Ohio Linux Fest you will gain a unique perspective of this community. You will see the technology and some of the faces that have made possible such a wonderful change to the digital world.
There are some great speakers at the event, including Doug McIlroy, the inventor of the UNIX pipe, as a keynote speaker:
The featured keynote speaker this year is Doug McIlroy, a major contributor to the great grandfather of Linux and a direct contributor to code that powers many of the Unix products of today. Doug invented the concept of pipes inter-process data streams that no true Unix / Linux geek can live without. This concept made its way into less stable products as well from other proprietary vendors.
It's definitely an event you don't want to miss. Visit the Ubuntu booth and there's a good chance you'll see me there.
OLFU training classes will be offered the day before the event on the 25th. This is, literally, a bargain. This years training will be guided by LOPSA Where else can you go and get a days worth of training for only $350.00?
What other crazy things will you miss out on if you miss OLF? You'll miss cool Tee Shirts, the yearly After-Party, the Free-Geek Columbus Linux Basics and more. Don't be sorry that you didn't register for the event.
There's a rumor about that some people go to OLF for the after-party.
Regardless of your reason, make it a point to register. You'll have a great time, trust me.
See you there!