The Chromium blog (Chromium being Google's name for the open source project behind their Chrome browser) reports that developer builds of Google Chrome are now available for both Mac OS X and Linux.
Google Chrome has always been promised to be a cross-platform browser, right from when it was originally launched in September last year.
This is just the beginning — Google Chrome is far from done. We're releasing this beta for Windows to start the broader discussion and hear from you as quickly as possible. We're hard at work building versions for Mac and Linux too, and will continue to make it even faster and more robust.
However, up until today there have been no officially Google-branded Chrome releases for anything other than Windows.
Google are making it quite clear that Chrome is far from finished on the Mac and Linux platforms, strongly advising you not to use the browser unless you're a developer, or love living on the bleeding edge.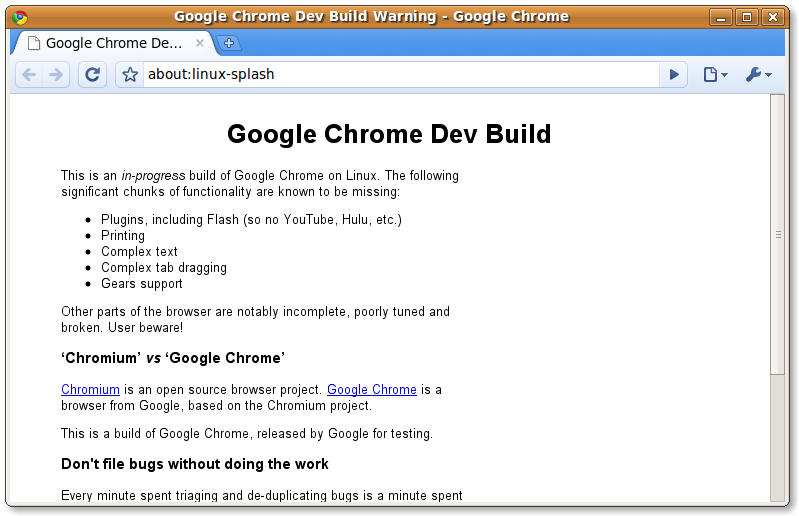 It does seem to work pretty well actually as a browser, however. I've only played with it for a short time, but it seems to feel a lot snappier than Firefox on this machine. While the missing bits of functionality, such as plugins, does mean that it can't really yet (and probably shouldn't) become your primary browser, Chrome for Linux looks really promising as an excellent WebKit-based browser for Linux and a strong competitor for Firefox.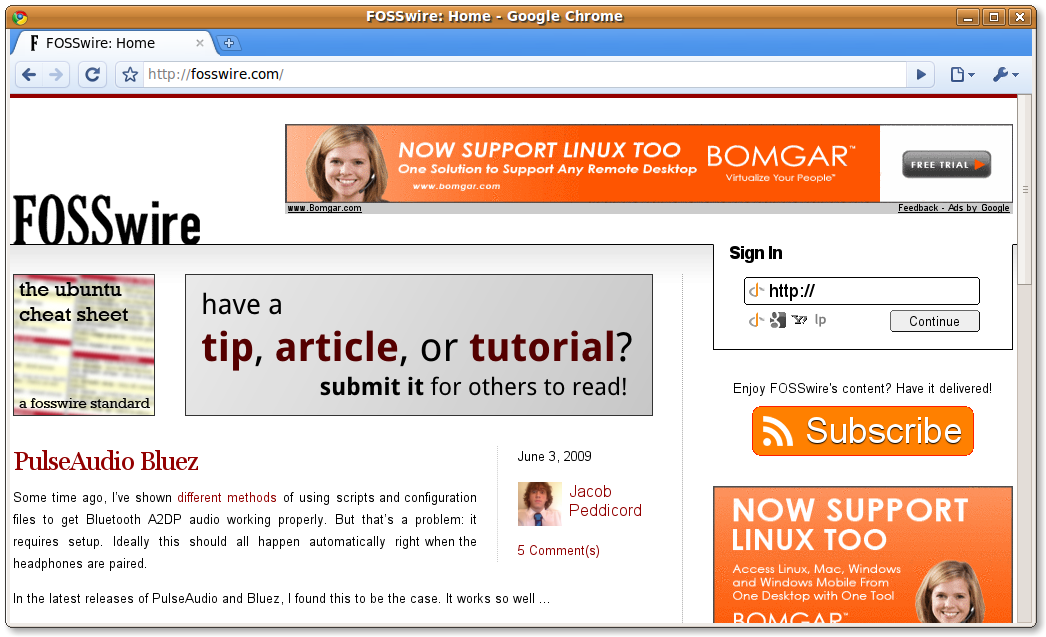 Right now, there are only .deb packages for x86 and x86-64 (AMD64) available, so you'll need a Debian or Ubuntu system to run the test build. On my 64-bit Ubuntu 9.04 system it runs really well.
To download this test release, go across to the Chromium Dev Channel and scroll down to the 'For Linux' heading. Also do take note that the installation package will add Google's repository to your system to automatically keep Chrome up to date.
What do you think of Google Chrome? Do we need another browser on Linux? Is Google Chrome set to be the best WebKit browser on Linux, the best browser in its own right or simply unnecessary or undesired on the platform? Have your say both in the comments and in the forums.