It's about time for another quick tip, and this one relates to the premier open source office suite, OpenOffice.org.
Using the built-in heading styles in your Writer document means that OOo can handle the styling automatically for you and also you can generate tables of contents and more with the built-in tools. Note that this tip assumes that all your headings are set up in this way.
In some documents, you might want or need to number your headings. Again, rather than typing numbers in each heading manually, you can set up your heading styles to number this for you.
This even works with hierarchy - your Heading 1 can be numbered '1' and a Heading 2 underneath it will then be '1.1', for example.
To set this up, first go to Tools > Outline Numbering.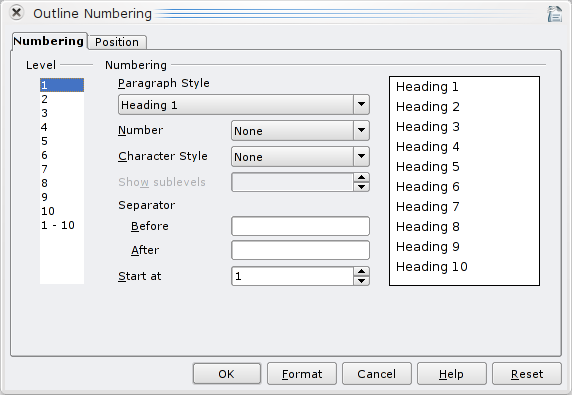 In this dialogue box, simply pick the heading level on the left and then choose the numbering style you want from the Number box.
Repeat this process for any of the other heading levels (e.g. Heading 2, Heading 3). In this way you can quickly build up the hierarchical numbering system using whatever numbering style (1, I, i, a) you prefer. While you're here, you might want to go to the Position tab and change the minimum spacing between the numbering and the text of the heading so it isn't squashed up.
Once you've set your headings up the way you like, OK that dialogue. Any existing headings in the document will gain the numbers and future headings will be numbered as you've indicated. You won't have to bother manually renumbering things if you later decide to cut and paste something into a different place.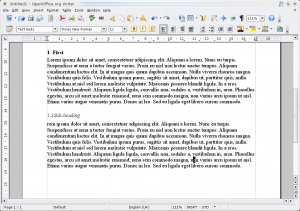 And if you're going to need this a lot, you could also save a template with this style already set up.
[via]