Encoding video from one format to another isn't generally considered the most fun job in the world.
One of the video encoding tasks we need to do here for FOSSwire video posts is converting recordMyDesktop Ogg Theora video files into Flash format for the inline player (unfortunately, a necessarily evil).
Traditionally, this would mean dropping to the command line and hand-feeding the encoding instructions to a program like ffmpeg or mencoder.
Ubuntu user JeanClaude (also known as siafulinux) has put together a script for GNOME's File Manager (Nautilus) that makes the Theora to FLV encoding process really simple.
The script can be downloaded here and requires GNOME, Zenity and the video encoding tool mencoder to be installed.
Once you've downloaded the script, you simply extract the file, and double-click install in the extracted folder (choose Run if asked). This drops the script into the right folder.

Now, to convert an Ogg Theora video file to Flash, with default settings, you simply do the following.
Browse to the Ogg Theora source video.
Right-click the source video. On the menu, choose Scripts > Ogv to Flv Converter.

Wait while the conversion happens. When it's done, you will have a nice shiny Flash video file, ready for distributing via the web.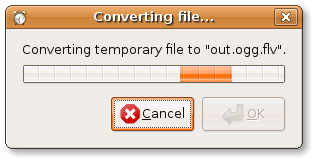 It really is an extremely simple and handy way to very quickly convert a video to Flash video and could easily save a lot of time if you're frequently working with video on Linux.
There are, obviously, plenty of situations where you want more control over the conversion settings, but as a quick two-click solution, Ogv to Flv is a win.
Kudos should go to the developer for making this little script not only really easy to use, but also very simple to install.
If you want to see Ogv to Flv Converter in action, watch this YouTube video made by the author.