A major update to the one of the free software world's most popular desktop environment, GNOME has been released.
The new version bumps GNOME to 2.24 and this new release boasts some significant new features and updates many core GNOME applications to new versions. Read the release notes.
Among the new additions is a brand new instant messaging client called Empathy, a new release of VoIP client Ekiga, updates to the file manager (including tabbed file management), accessibility features and a whole host of developer stuff.
It also introduces the new GNOME Mobile platform, designed for bringing the GNOME desktop environment to portable devices such as mobile phones.
[caption id="attachment_859" align="aligncenter" width="172" caption="New Empathy IM client"]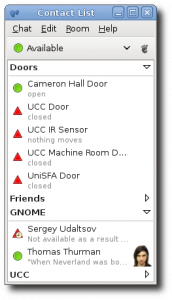 [/caption]
Depending on your operating system distribution, you might be seeing GNOME 2.24 fairly soon, or it may be some time before it is packaged up for your system. Alternatively, check this list for distributions that are shipping 2.24 (will be updated as they do), or grab the live CD (at the time of writing, not yet updated for the new release).
[image from release notes]