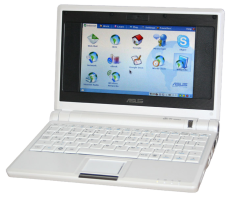 The Inquirer is reporting that in the UK, 2.8% of PCs are now preinstalled with Linux. That figure has multiplied more than 28 times since January 2007.
The number of machines shipped with Linux preloaded on them has multiplied a whopping 28 times since Microsoft launched its Vista operating system in January 2007.

Sounds impressive, but Linux was starting from a rather small base in traditional sales channels: of all PCs sold in the UK last January through indirect channels, a feeble 0.1 per cent had Linux preloaded, according to numbers given to us by market research firm Context.
The article hints quite strongly towards public dissatisfaction at Windows Vista being a factor. Personally I doubt that Vista has much to do with this, as I think it more likely those consumers would 'downgrade' to XP.
Personally, I am inclined to believe that much of this rise can be attributed to machines like Asus' Eee PC, i.e. cut-down compact laptops running customised Linux distros.
While some larger OEM vendors are now shipping Linux on selected desktop machines (including big names like Dell), I would imagine most of this statistic would be on novel computing platforms, as opposed to the humble desktop.
So how far can desktop Linux go? Is it possible to get relatively widespread desktop usage?
The difficulty is convincing an average user to make a conscious choice away from Windows, to something that have no familiarity with. Unless you can demonstrate extremely attractive benefits of an alternative, most people won't bother to investigate. Hence, no demand and no supply.
[via Slashdot]
Eee PC image licensed under CC BY 3.0, source http://en.wikipedia.org/wiki/Image:ASUS_Eee_White_Alt-small.png