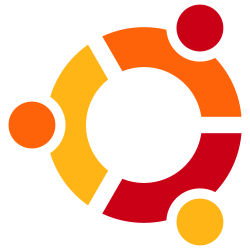 If you're brand new to Ubuntu, or Linux, many concepts will be alien to you and whilst it is pretty simple to pick it up after a while, you may be left in the dark when things differ from how Windows works.
One of the key differences between the two is how you install software. With terms like package and repository flying around, it can be a challenge to know where to start to get some new software downloaded and installed.
For this reason, I've put together a two-sided printable guide which explains, in very simple and easy-to-understand terms, how to install most software in Ubuntu.
Click the image below to download it as a PDF file.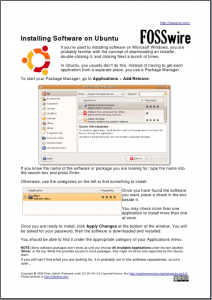 It is also available in two alternative formats:

In true open source and open content style, the printable guide is licensed under a
Creative Commons Attribution-ShareAlike 3.0 Unported
licence. This means you have the right to adapt and build upon it, provided that you credit FOSSwire (our logo and link should be fine!) and allow others to do the same to your versions too!
In fact, we'd love people to help us, particularly with translating this guide into other languages. It would be great if this information was available to every new Ubuntu user, regardless of where they are from and what language they speak!
If you want to do a translation, I suggest you download the OpenDocument Text version, do the business and then email it to me - peter at fosswire.com - and I will put it up here on FOSSwire.
Translations
Finally, it would be great if you spread the word about this new guide - feel free to download and share this among your Linux newbie friends, put it up on your website as well, or just link to us so that the word gets out that help is at hand.