When it comes to free software desktop solutions, Linux tends to get most of the coverage. Now Ubuntu, Fedora, OpenSUSE etc. are all well and good, but it's all too easy to forget that there are other operating systems out there too that can do th e job.
BSD-based operating systems have been around for a very long time, but traditionally, the big BSD distros like FreeBSD focus on the server and high-end workstation scenarios.
PC-BSD is a desktop-oriented BSD distribution which ships with a full KDE desktop and many of the packages you might be already used to from desktop Linux.
I thought I would review the new 1.5 release of PC-BSD, so, let's dive in!
Installation
It's a standard iso image to download, with an optional second CD with some other applications like Firefox and OpenOffice.org. I downloaded both CDs, and booted from the first. After an initial text-based boot menu, the graphical installer comes up impressively quickly. It's not particularly pretty, but it is perfectly usable and reasonably understandable too.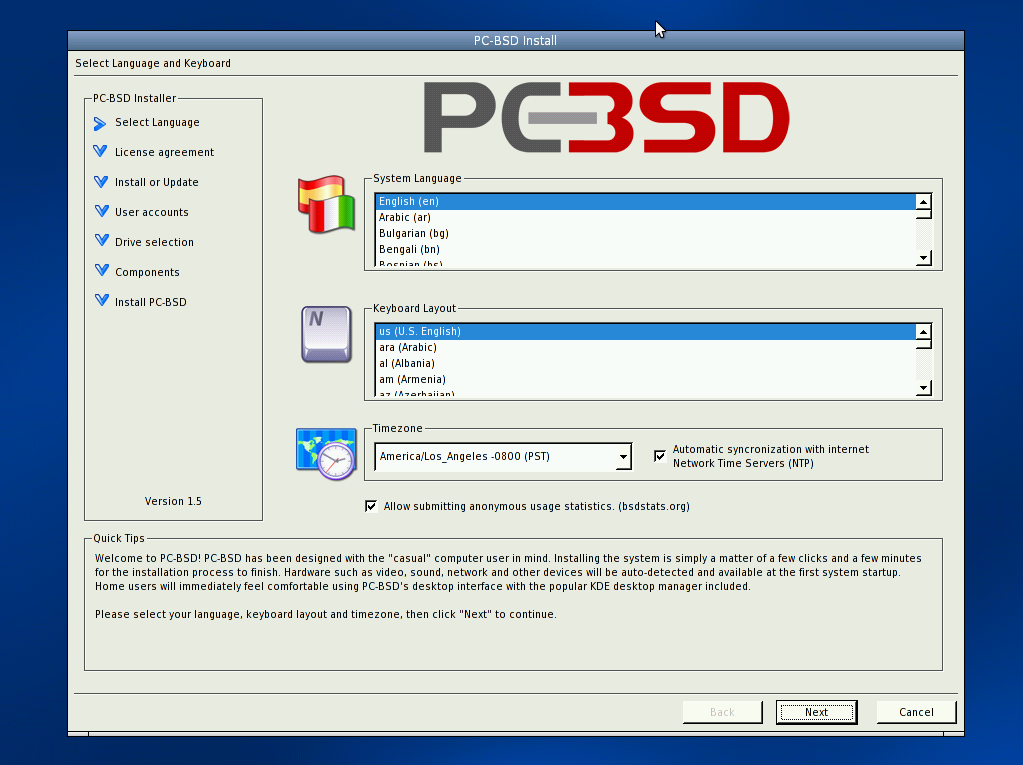 To begin with, you have basic system questions about regional settings to answer and the licence agreements to agree to.
Next, you move on to setting up the root password and creating the other users on the system. Interestingly, passwords have to be alphanumeric only (no symbols). I presume this is a side effect of using a different encryption system to most Linux distros. It shouldn't really be a problem, as it's easy enough to pick a different password, but it is a slightly puzzling limitation nonetheless.
Partitioning is often always the most challenging step of any operating system installation, especially in a dual boot environment. Curiously, PC-BSD doesn't support installation onto logical drives inside of extended partitions; you are stuck to using primary partitions only. This could prove to be a significant barrier in environments where it is intended to be run alongside Windows.
For me, this partitioning restriction isn't an issue, as I installed PC-BSD inside a virtual machine. So for the purposes of this review, I just hit Use entire disk and gave it free rein over the hard disk image.
If you downloaded CD 2, you have the option of installing certain packages from it in addition to the base operating system and KDE packages. I chose to install Firefox, OpenOffice.org and a few of the KDE extras that come with the second disc.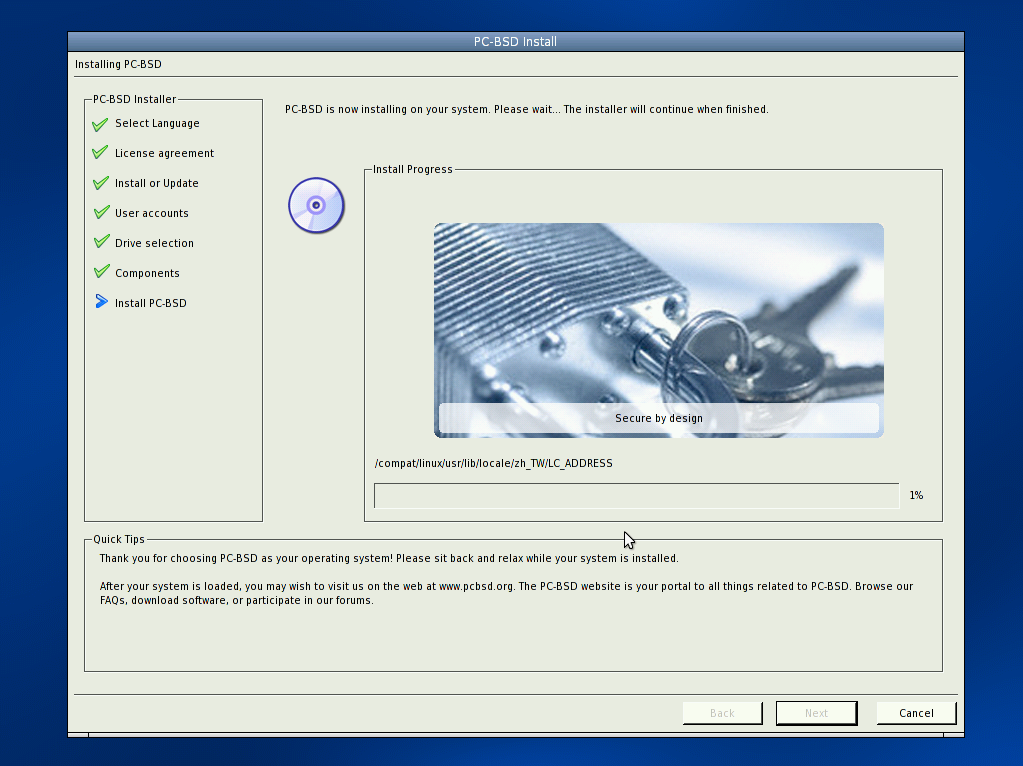 The file copying process is fairly plain and gets the job done. File copying took about half an hour inside my VM, but real results are likely to vary.
First impressions
Once the copying completes, you simply reboot. A similar boot loader comes up at startup, and then you are launched into booting the operating system.
It's slightly disappointing that there's no pretty graphical boot screen, but once the graphical environment comes up things look a bit better. Initially, you are invited to set up your resolution and other settings.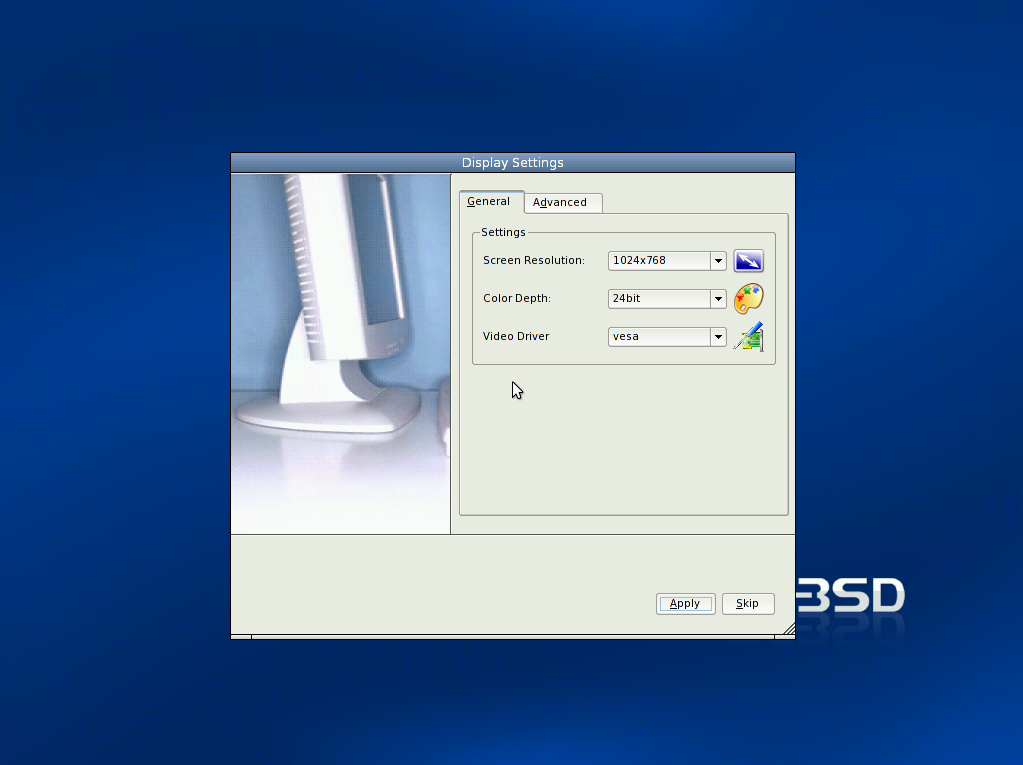 After login, you are greeted with a fairly standard looking KDE 3.5.8 desktop. There are a few links to relevant PC-BSD websites placed on the desktop, along with a HTML 'Quick Guide' and access to important locations like the Home folder. If you've ever used KDE before, you should be right at home.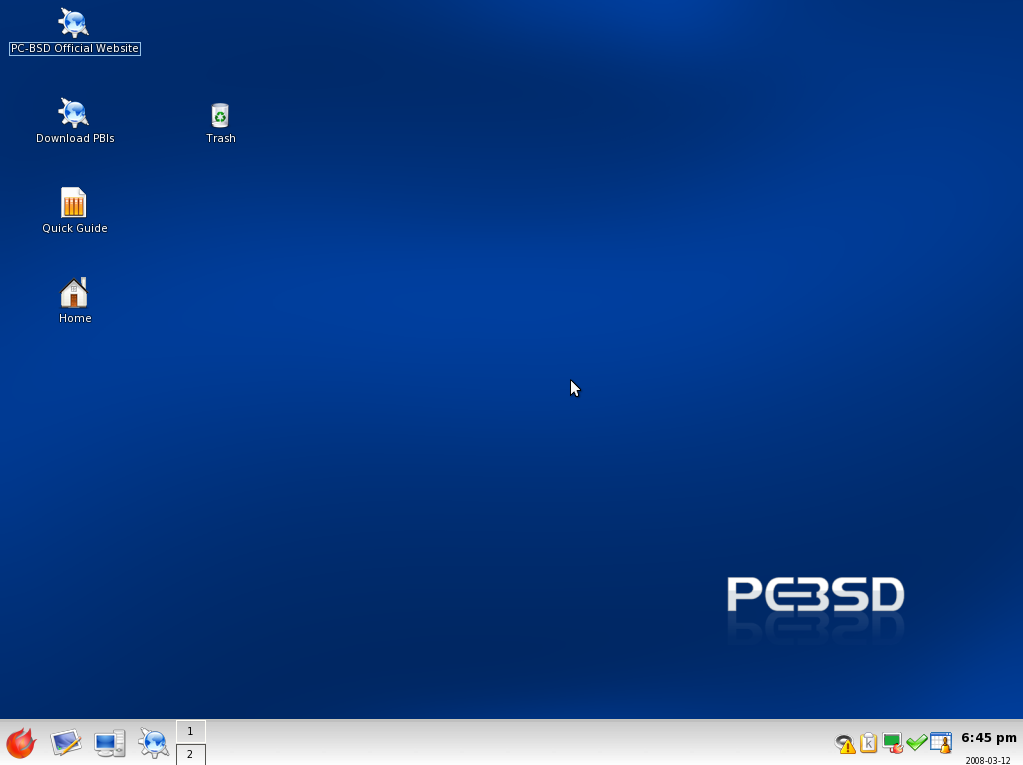 One of the benefits (or not, depending on your viewpoint) of PC-BSD, is that they are a lot more relaxed about free software and non-free software.
A real-world example of this is that if you opted to install Firefox from CD2, you will find that Flash Player 7 is included. Granted, it's not the latest version and therefore might have trouble with some sites, but it's enough to go on YouTube and run a fair few Flash-based applications. The majority of Linux distros don't include software such as Flash Player out of the box for licensing and ideological reasons, making it necessary for most users to go and install that software manually, which usually isn't fun.
Software management
The really interesting difference between PC-BSD and its competitors is in the area of software management.
Software management is a very important part of any modern operating system, and PC-BSD comes with a custom-built solution that works a little differently to the traditional FreeBSD ports system. There is a central repository for downloadable packages, called pbiDIR.
To explain how it works, I'll walk through a typical installation. First of all, there's no application for installing software, it's all handled through the website. So you visit the site in your browser, drill through the categories until you find the software package you want. Then you download it, as a file in your browser. As the name of the site suggests, this file will have a .pbi extension.
Once the file is downloaded, it automatically launches the relevant installer. It looks just like a Windows installation wizard, and feels just like a Windows installation wizard, right down to the typical Next, Back and Cancel buttons. You just Next through, and click Finish at the end. The application you just installed launches right away (if you ask it to, of course).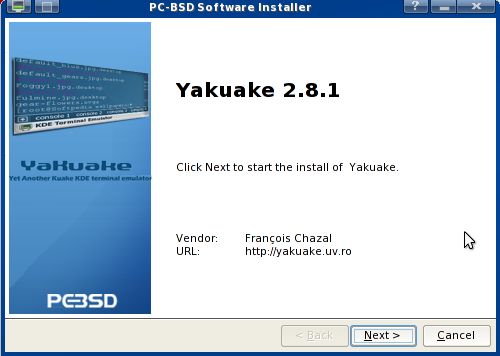 This slightly quirky (for Unix systems anyway) software management paradigm is interesting. For people with no experience of Linux or BSD, it makes the process, well - understandable.
It works in a similar way to Windows does, you download a file, double-click it and click Next a few times. As much as I don't necessarily like this way of doing things, it undeniably lowers the bar and makes it usable for people who have never touched anything but Windows before. Thumbs up.
Uninstalling software is done through a simple interface which lists the installed PBI packages, and allows you to remove them with one click. Literally.
Having the opportunity to take a fresh look at software management has allowed the PC-BSD developers to get it right. Experienced Linux and BSD users might moan and groan about the Windows-ness of it, but it really is slick.
I don't really have much of an opportunity to try out the software updates system, as the version I'm reviewing was released on the day I'm writing this review, meaning there aren't yet any updates available - at all!
Conclusion
PC-BSD is a very capable general purpose desktop operating system. It is certainly as capable as any of the major Linux distributions out there. The particular thing that makes it stand out is its novel approach to software management, which makes it easier for the newbie to use.
The major issue I see is lack of support. PC-BSD is very niche and that is likely to cause some issues when it comes to support. There is an active forum-based community, which I am sure is very helpful, but the level of support simply can't compete with the communities built around other operating systems, such as Ubuntu.
Apart from that, I really am struggling to find criticism for PC-BSD, aside from the minor quirks and some of the rather irritating installation restrictions.
Sure, it might be an unusual choice, but for the standard web/productivity tasks it does as good a job as anything else that's out there. And isn't that what really matters?
PC-BSD 1.5 has been released today, and can be downloaded from the official site (BitTorrent downloads also available from the same location).
What experiences have you had with BSD distributions? Should more attention be given to the non-Linux free OSes out there? Sound off in the comments.