KNetStats is a really simple network monitoring application for KDE.
You launch it, and it sits around in your system tray waiting for some network action. Much like the little network widget in Windows that sits in the system tray, the little computer icons light up to show incoming and outgoing traffic. In KNetStats' case, they flash green.
In addition to this, you can click the icon to bring up a statistics window, that looks something like this: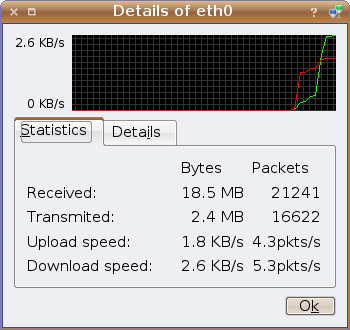 You can also use the details tab to view basic information about your network connection, like the IP address and MAC address of your machine.
To be honest, there's not that much additional commentary I can make on KNetStats. There's nothing particular special about it or any amazing features that stand out from the crowd. However, if you like having the visual feedback of what's going on with your network in your system tray, or want to monitor your network usage, KNetStats is a very lightweight application to do just that job.