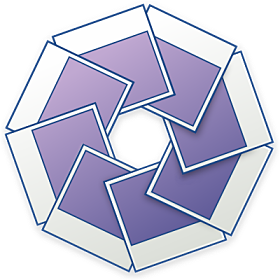 Nowadays, people have a lot of media. Music, videos and photos. One application for Linux for managing a library of photos is F-Spot. I thought I would take it for a spin, under Fedora 8 and GNOME.
F-Spot ships with almost all modern distributions that use GNOME, so it's pretty likely you won't have to do anything to get it installed at all, just have a look under Applications > Graphics or similar. If not, install the f-spot package.
On opening the application for the first time, you'll be asked to import some photos. I've got a collection of around 1400 snaps, so I chose to import the folder containing them into F-Spot.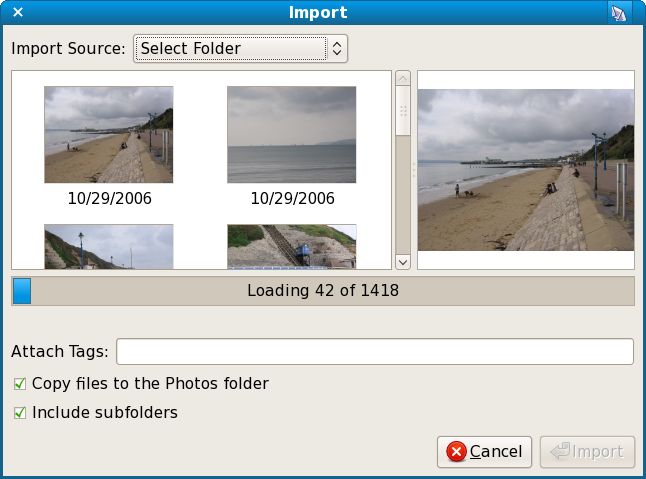 With the volume of images here, I had to wait about a minute for them to be processed before I could move on. Once they had, though, I was thrown head first into the browsing interface.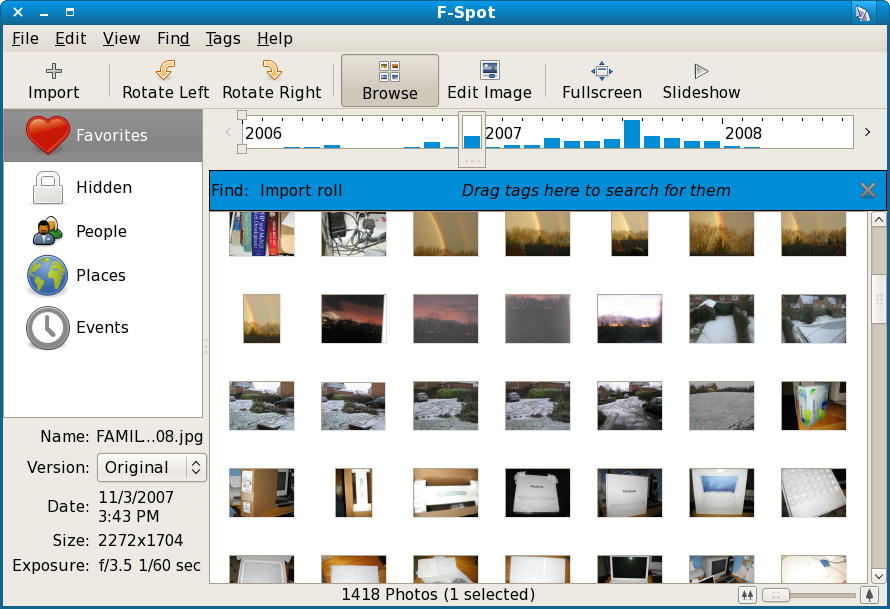 I think it's fair to say that the benchmark for this class of application has to be Apple's iPhoto. F-Spot's browse interface mimics that of iPhoto, showing photos in a grid arrangement in chronological order. There's a slider on the right hand side in the status bar that allows you to change the size of the thumbnails in browse view, which works well. Browsing through even a decently sized collection like mine, F-Spot is impressively quick and responsive.
There's also a timeline widget at the top, which allows you to quickly get to photos from any point in time. The graph shows you the number of photos taken in that time period, and it's pretty useful for quickly jumping to all the photos from a certain event if you know roughly what time of which year it happened in.
Double-clicking any photo, or clicking the Edit Photo button takes you into the edit interface. It takes the current photo and makes it fill the main portion of the F-Spot window.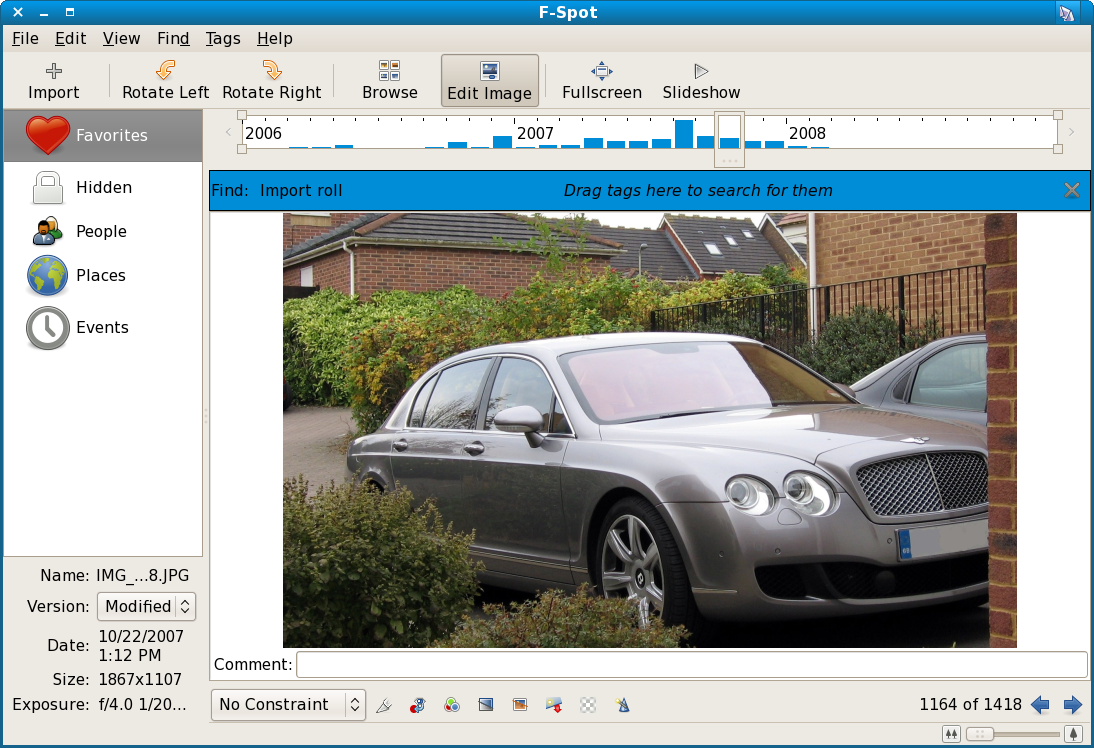 The edit interface is simple to get to, but the buttons at the bottom for choosing an action to perform on the image are too small, and it's not immediately obvious what they do. Hovering over them does reveal their function, but it should be easier to get to those controls. The available editing tools are pretty much the standard, including crop, red-eye removal, colour balancing, auto-adjust and more.
The slideshow feature in F-Spot is promising, but as far as I can tell, without OpenGL rendering capabilities, it won't work very well. While the photos themselves looked beautiful in this mode, the transitions between were sluggish, making your slideshow look unprofessional. With the right 3D rendering support and drivers set up in your Linux distro, however, this might not be an issue; however I haven't had an opportunity to test this.
Another big feature in F-Spot is tags. You can tag any photo with any of the built in tags by dragging the tag's icon from the left pane on top of any photo. You are also free to make your own tags to help organise your library. I didn't have time to look at tags in detail, but the functionality seems to work well, and if you spend the time to tag your library, it can aid in finding what you want.
There's a function for searching by tag, accessed by the 'Find Bar' (Ctrl+F). You drag a tag from the left hand pane into the bar and it instantly filters the browse mode results by that tag.
The last feature I'm going to look at in detail is exporting. I tried using the Flickr export function. The idea is simple, you select a few photos and click File > Export to Flickr.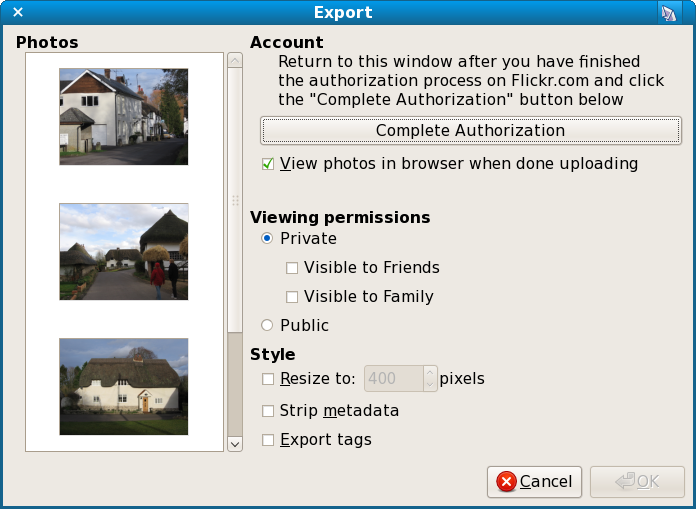 You have to authorise the application with Flickr as with any uploading program, but this process is pretty simple.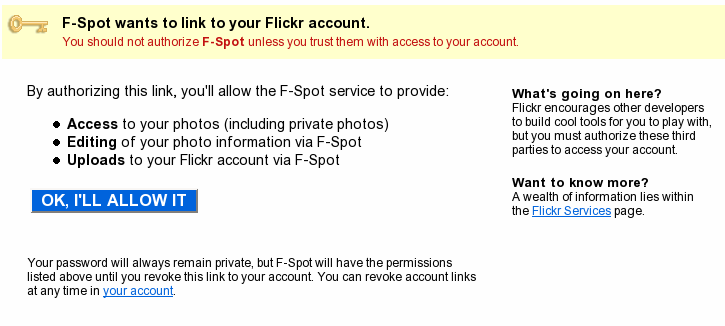 Once that's done, you set the privacy settings for the batch you've set to upload, choose your options and click Upload. The upload progress window only updates progress after a photo has uploaded, so at times it can seem to take ages and then jump along a massive stage, especially with a slow connection. Once uploaded, you get redirected back to the Flickr site where you can tweak the titles and tags of the photos before accepting them into your Flickr collection.
I really have no major complaints about the Flickr uploading support. It's simple, intuitive and it works well.
Conclusion
F-Spot is a great example of a very well executed FOSS application. Its critics could call it an iPhoto clone, perhaps, but the fact remains that F-Spot is an extremely capable application for dealing with a library of photos. Aside from a few minor annoyances here and there, and some troubles that are probably specific to my setup, F-Spot gets the job done, and does it in a intuitive and stylish way.
The only major competition on Linux for this type of application is Google's Picasa (which isn't open source). For most users, F-Spot does everything Picasa is needed for, and on GNOME does it in a way which integrates beautifully with the way the OS and applications already work, unlike Google's hacky half-Wine implementation.
F-Spot is highly recommended.