Renaming a big set of files can be a right chore. For example, if you've just imported a set of digital photos, they'll usually have really unhelpful and undescriptive filenames such as DSC_0000.jpg.
KRename is a graphical tool for KDE that attempts to make the process of batch renaming a large set of files a whole lot more bearable.
Opening the application for the first time gives you this dialogue: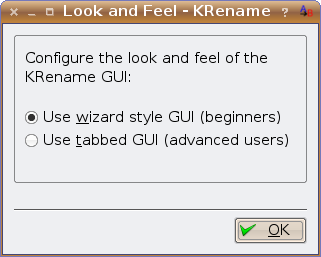 Both approaches work pretty well, but I'll focus mainly on the wizard style here. In wizard mode, there are three steps, the first of which is picking the files. Rather annoyingly, you can't drag files from Konqueror or Dolphin into the window, but instead have to click in the main pane and select the files in a standard file selector window.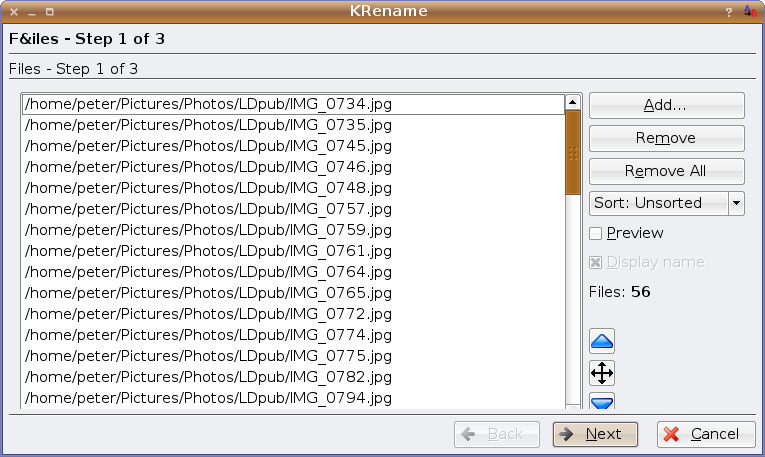 The next step in the wizard is choosing the operation you want to perform. As well as straight renaming the files, you can also move or copy them into a different folder.
The final step is actually setting up the renaming pattern for your files. In wizard mode, the options for making a custom renaming pattern are more limited, but you do get easy access to adding a renaming prefix, suffix and some common options.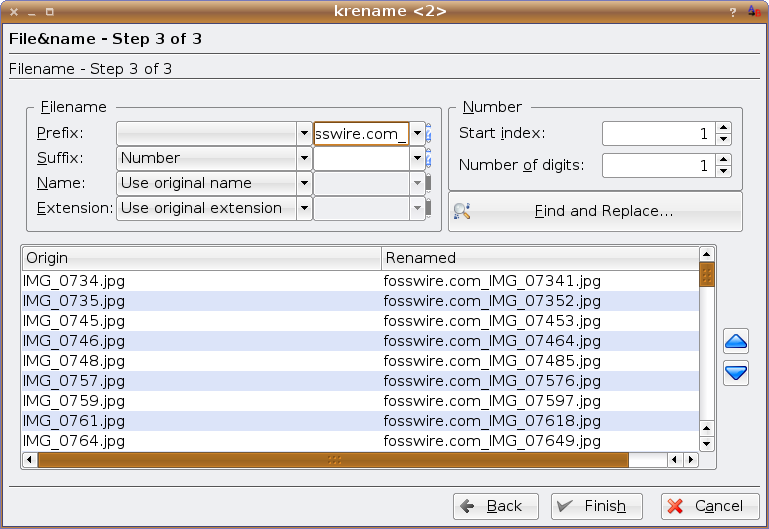 This makes it easier to understand if you don't have a clue how the more complex syntax works, but I'd recommend power users stick with the tabbed interface which gives them the most control over their naming system.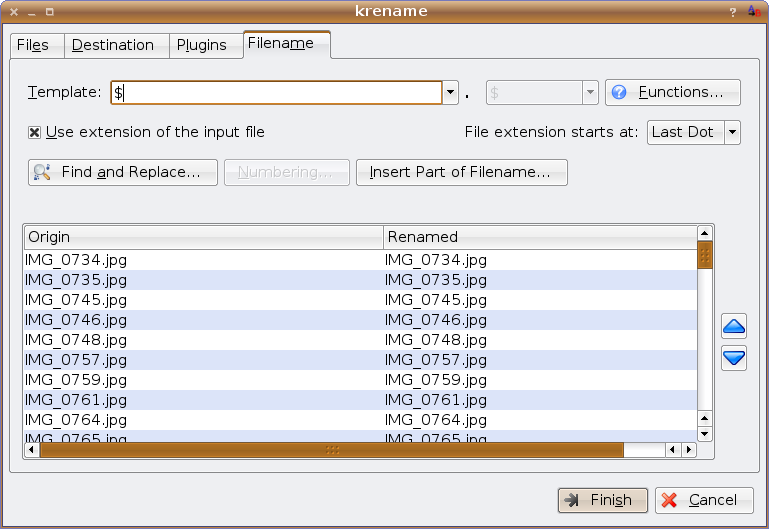 Once you've decided your rename pattern, you get a helpful progress window that shows you what's going on as it happens if there are hundreds of files. It also shows you any errors that have occurred, for example if a name conflict has happened. The presentation of the errors in this way makes it nice and clear to identify a problem you might have and head back and fix it before retrying the operation.
There is also a very handy Undo button on the Progress page, so you can easily change your mind even after you've clicked OK.
Apart from the slightly confusing initial question about which interface you want to use and the minor quirk here and there, KRename works very well. Like all good Unix programs, it focuses on one job, and does it well. While I have complained about that initial interface choice at the start, it does serve the purpose of giving the wizard to users who want to do less advanced tasks in a more straightforward way, while not pushing the power users out either with the advanced tab interface.