Feed readers are quickly becoming very important applications in people's daily workflows. Along with your email client and web browser, your feed reader is a hub of information.
RSSOwl is a Java-based application that is designed to run on pretty much all platforms - that includes Windows, Mac OS X and Linux distributions. Here, I'm reviewing version 2.0 Milestone 7 on Fedora 8, but the functionality should be identical wherever you run it.
Installation
You can quickly and easily download the right package for your operating system from the download page. With the Linux version, it's a simple case of extracting the Zip file, and double-clicking the RSSOwl binary. You do however, need Java installed, no matter where you run it.
First impressions
Once RSSOwl loads, you're presented with a screen that looks something like this: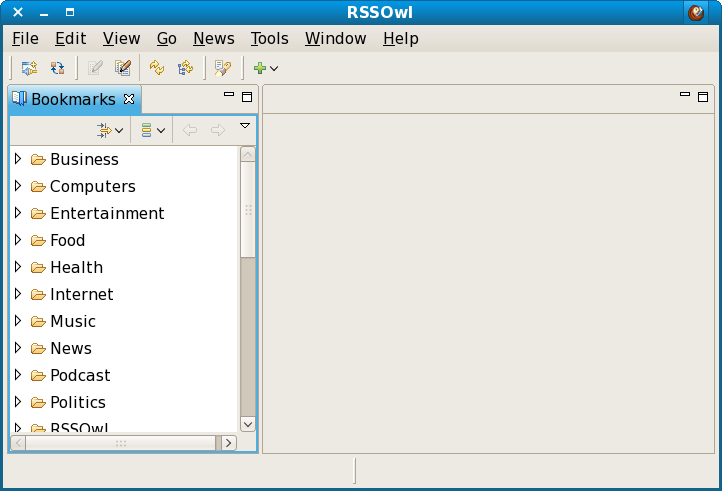 The interface is divided into two columns, with a list of feeds on the left and the main area on the right. The list of feeds comes pre-populated with some that the developers have decided you'd like, but it's trivial to delete that whole set and either import your own feeds or add a new one.
Adding a new feed
Adding a new feed manually is pretty simple and intuitive. As you'd expect, you click on the green plus in the toolbar. Interestingly, it brands this as adding a bookmark - which might be a bit confusing for feed veterans, but might well make it easier to understand for those who are new to the whole concept.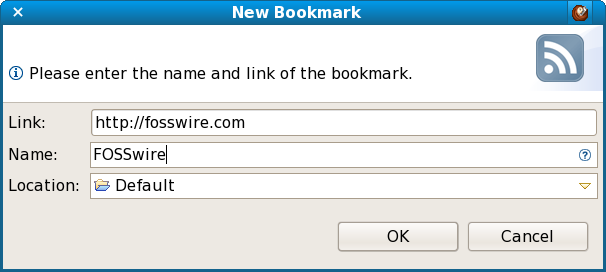 One negative point here is that if you don't specify the direct feed URL (for example, just put down http://fosswire.com/), RSSOwl doesn't appear to actually go and auto-discover the real feed URL and fetch from there. Instead you have to put the direct feed URL in from the beginning (for example, http://feeds.feedburner.com/fosswire. Coupled with the confusion of calling it a 'bookmark', this could prove very frustrating until you work out exactly what it means and even then might add an extra unnecessary step to adding a feed into your reader.
Once you have done so, however, the feed items will be loaded in and you'll be able to select it from the source list at the left and see the items in the main pane.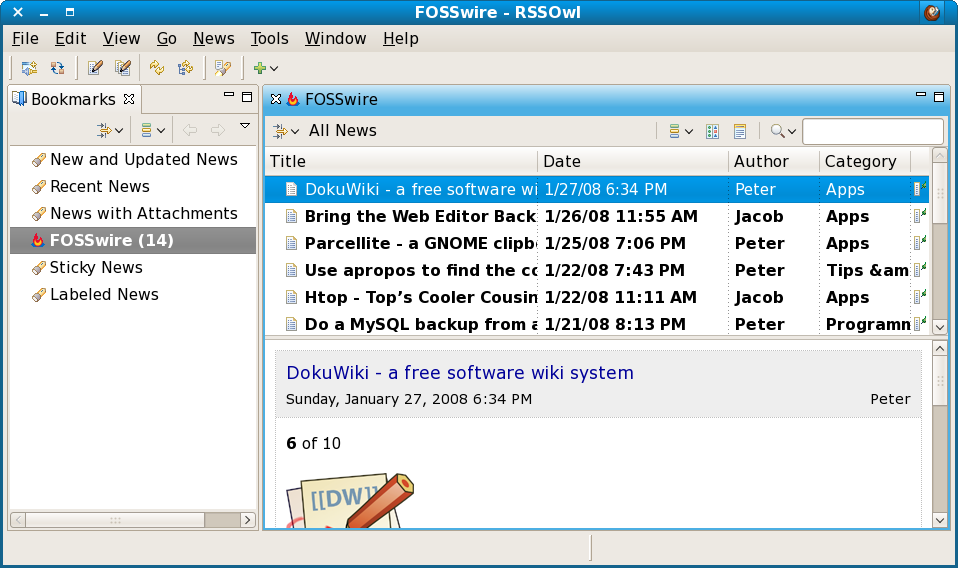 Reading items
Reading items works in the way you expect it to, click an item and the bottom part of the right-hand pane and read it. I generally have no complaints.
If you're a fan of the 'river of news' metaphor, then RSSOwl won't disappoint there either. The 'New and Updated News' group on the left gives you this view, and shows you, obviously, all unread items in the right-hand pane so you can go through them. It works well, although with several hundred unread items the performance did suffer quite a bit and RSSOwl became a bit sluggish.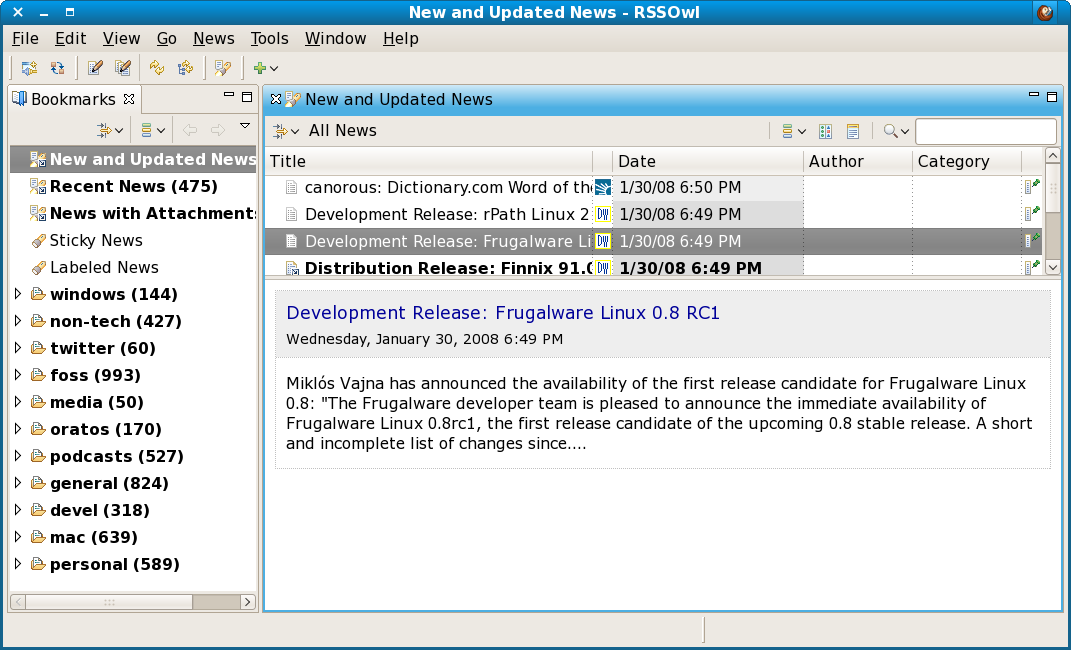 Importing feeds
I currently use Google Reader as my main feed reading solution, so I proceeded to export out my subscriptions as an OPML file. In RSSOwl, I simply clicked File > Import Feeds and imported the file. My labels in Google Reader became folders in RSSOwl and within a minute or so, all my feeds were loaded in and the items displayed.
I do have around 250 subscriptions, and I was pleasantly surprised with the speed at which they were imported, processed, and the items loaded into the client.
Conclusions
I actually have used RSSOwl in the past, back in the 1.x series in August 2006, and posted a review on Gizbuzz (a previous Oratos Media blog). Since then, I was pleasantly surprised with the amount of progress that has been made in making RSSOwl easier to use, faster, and particularly on Linux, easier to get started with and a better citizen on the Linux desktop.
While there are some areas in which RSSOwl could definitely improve in, overall I find it a very capable feed reader. Personally, I'm going to stick with Google Reader for the moment, as the fact that it is web-based gives me more portability, but to those people who don't use a feed reader right now, or are looking for a change, I'd recommend you download RSSOwl and give it a try.