Since Writely, being able to edit documents with others has gone from some fancy new technology to being the standard in most web applications. It was "the thing" to work on a document with three others at the same time, and still is. But the trend seems to stick with web editors.
Gobby answers the call for a desktop editor. You can open the client and share any document in a real-time editor with anyone on your local network or the Internet. Edits are highlighted, so everyone can see who edited what.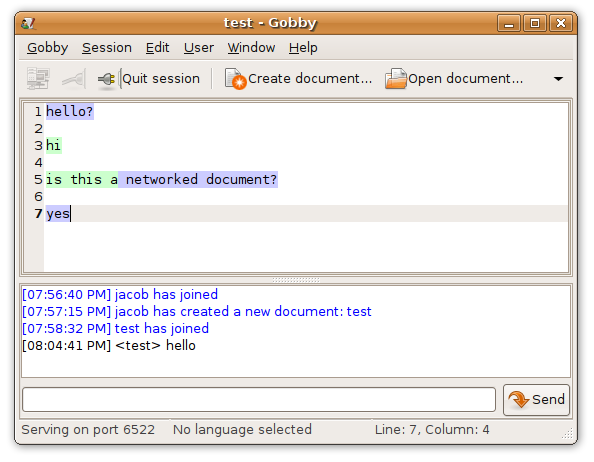 It's does a lot more than what you see in the image, being particularly good at editing code in groups. It's the equivalent of a real-time version control system, without the revisions. Edits are merged instantly, so you can see where text is being changed.
Gobby uses the client/server model for sharing. One user starts the server on their system, and everyone else can find it by searching the local network. This makes it very easy to set up on a local network, but is a disadvantageous over the Internet. Port forwarding must be set up properly for others to be able to connect to it over the web. This is the area where a web-based application would be better in ease of use.
In addition to the main editing window, Gobby also provides a chat pane to discuss any edits being made. You can also create a password on your username, though it will only apply to the computer that is serving everything.
Overall, Gobby provides a great way to work in a collaborative situation. It is most useful on a local network or in an office environment, where setup takes only a few clicks. Since there is no Gobby service on the Internet, worldwide connections may take a little longer to set up. It still is a very handy tool to have around when you want to get help on code.