Finally caving to a Flickr account last night, I was off to go start uploading some pictures. Looking at the Flickr Uploaders page,  I saw a Java application that supposedly worked with Linux. After downloading and installing it, all I was able to get were Java errors, even though I had Sun Java 5 and 6 installed. Oh well, it was probably just an error on my part.
But before I was able to debug it further, a voice came into my head whispering "repositories...!"
And that's how I found Postr, a very lightweight Flickr uploader.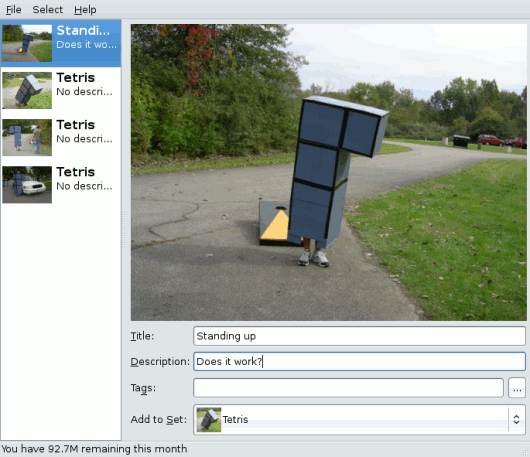 It leaves the task of managing your photos up to the Flickr site, but lets you upload them with a title, description, tags, and set. Not very complicated; just clean and simple. You can drag and drop files into the uploader or add them manually. Whenever you are done labeling them, just hit the Upload menu item and wait for them to head on over to Flickr.