If you have to do a lot of document exchange with users of Microsoft Office (particularly) Word in your use of OpenOffice.org, you might have to constantly keep switching the save format when you come to save into the Microsoft format.
If you find yourself wanting to change the default save format, you can find this option in OOo's Preferences. This process works for versions of OpenOffice.org on all platforms. Bear in mind that if you do automatically save in Word format (or any other format than OpenDocument for that matter), you might lose some formatting.
Changing the option is a very simple process, so this is a quick tip - but it is a little hidden inside OOo's Preferences so it can be tricky to find. Head to Tools > Options. Under the Load/Save heading, choose General.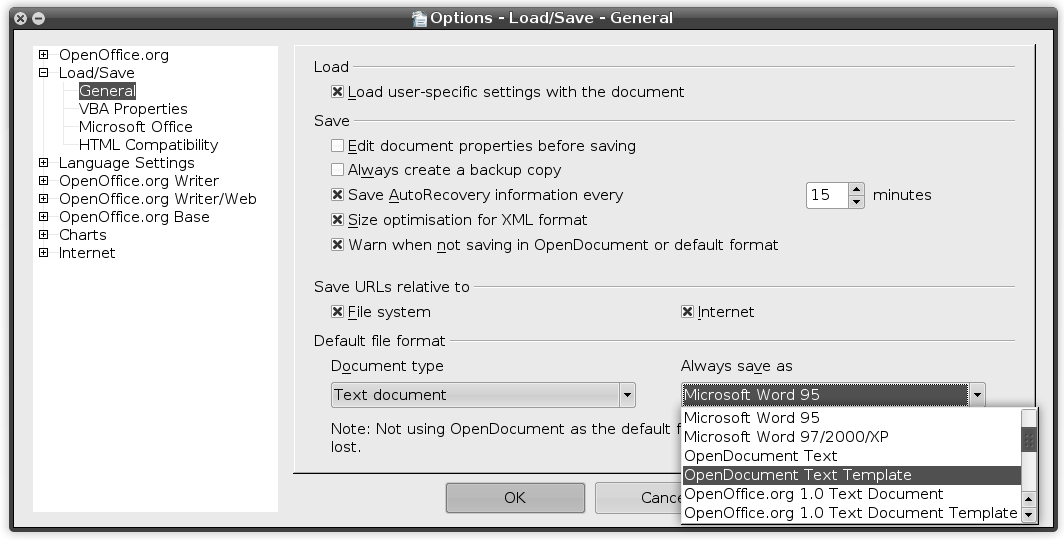 In the bottom of this window, you'll find the global OOo default save types. For Writer documents, make sure Text document is selected on the left then pick your desired save format on the right (for example Microsoft Word 97/2000/XP). Click OK and that should now be set as your default save type!
You can also switch the setting for other types of documents too, including spreadsheets and presentations with the same process.
Calling all FOSSwire readers! We're looking for your feedback - answer our reader survey and you could win an awesome FOSSwire t-shirt (we'll ship anywhere on this planet).