Jacob took a look at standalone GTK-based password remembering tool GPass recently, and if you're not on KDE that is a very useful tool.
KDE users however have a built in architecture called KWallet, which is designed to securely store passwords and other sensitive information but also includes integration with KDE (so for example you can have passwords auto-filled, pulled direct from your encrypted, secure KDE wallet).
In fact, you might already be using the KDE wallet. If you use Kopete for IM and have chosen to save your passwords, for example, you are. If we extend the Kopete example for a moment, the first time you choose to save a password in Kopete, you will be asked to set a password for your default KDE wallet.
It is this password that is your 'master password' and is used to encrypt all of the information stored inside the wallet.
As I've mentioned, access to the KDE wallet system is provided by KDE and thus is available to many different KDE applications. Another example is accessing remote servers in Konqueror. Login to an FTP, SFTP, or similar server and you'll be allowed to save the password or passphrase in your KDE wallet too.
So where does all this stuff go? And where do you, the user, go if you want to retrieve any of it? The quick answer KDE Wallet Manager application. You can launch it by finding it in the K menu, or press Alt-F2, type kwalletmanager and press Enter.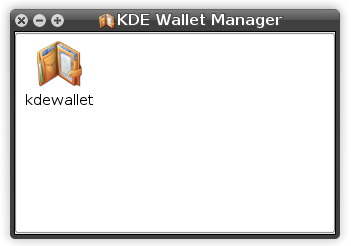 You might have to double-click the small wallet icon in the system tray (

) to bring up this main window (above) which lists your wallets. You can have multiple wallets, each protected by a different master password if you like to keep things separated.
Double-click a wallet to open it up and see its contents. Unfortunately at the time of writing the interface for viewing and editing the saved information inside KDE Wallet Manager isn't all that intuitive and involves knowing a certain amount about the underlying KDE Wallet technology.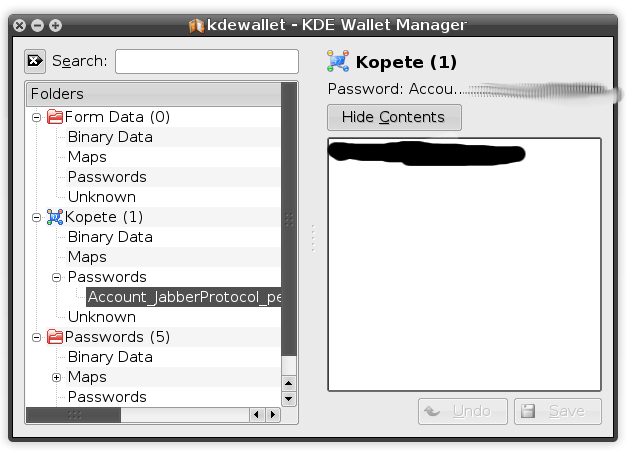 Still, the KDE Wallet architecture is a very useful tool and its strong support amongst KDE applications makes it a great way to securely store passwords and have them automatically remembered while retaining master password security.