In an attempt to find a good Unix reference for you FOSSwire readers, I was unsuccessful at finding a decent one on the Internet. So, why not make one?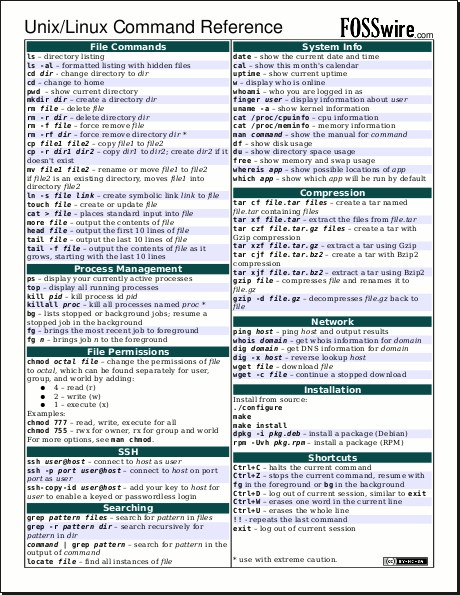 Click the image above to download a full PDF. Print it out, stick it on your wall, and pass it on. It's licensed under a Creative Commons Attribution-ShareAlike 3.0 Unported license, so feel free do distribute and modify it, even for commercial use! Just keep the FOSSwire credit on the page.
Translations are already available, so if you have your own translation you would like to share, post it in the comments and we'll add it here!
We'll occasionally update this with changes and additions every now and then (such as the problem fixed in the first two comments) so be sure to check back for updates!
Aug 3 1:20 AM EST: Typo fix in "mv."
Aug 3 1:28 AM EST: Added bg in the description for Ctrl-Z; updated "bg" under Process Management
Aug 3 1:34 AM EST: Added "which" and "whereis" commands for System Information
Aug 3 1:41 AM EST: Added "locate" under Searching
Aug 3 11:00 AM EST: Added Ctrl+R under Shortcuts
Nov 10 9:00 AM EST: New License: CC-BY-SA!