Feed technology is great - it allows you to have your favourite sites (including FOSSwire, of course!) to keep you updated with the latest content and push it out to you. There are many different reader applications out there, from the web-based, to the desktop and even in the mobile space.
One such desktop application for Linux and other Unix platforms is Liferea. Liferea bills itself as:
Liferea is an aggregator for online news feeds. There are many other news readers available, but these others are not available for Linux or require many extra libraries to be installed. Liferea tries to fill this gap by creating a fast, easy to use, easy to install news aggregator for GTK/GNOME.
And it manages to do just that - Liferea has a nice, easy-to-use and simple interface. After installation (which should be simply a case of heading to the software management program, searching and choosing to install), launching Liferea gives you this main interface: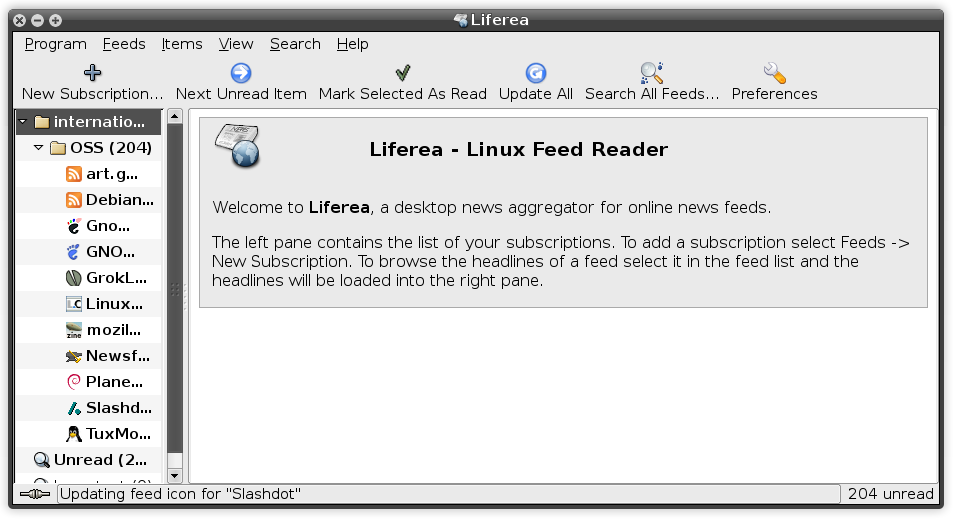 Your feeds are listed in the left-hand pane and are organised into one or more folders. There are also a couple of dynamic folders at the bottom which show you all unread items and items you mark as important. The right-hand pane is divided into the list of feed items and the main reading area.
Adding a feed to your reading list is very simple. You can either grab the feed URL (such as feeds.feedburner.com/fosswire), or just enter the URL of any page which is connected to a feed (such as fosswire.com) to have Liferea auto-discover the feed and add it.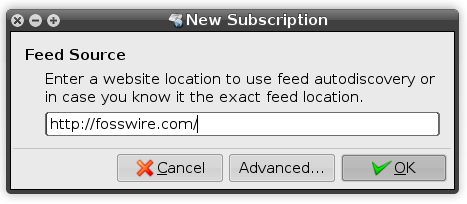 Individual feed settings such as the frequency of updates, caching and more is configurable by right-clicking a feed in the left-hand pane and choosing Properties. You also have full import and export capabilities with OPML so it's easy to migrate to and from Liferea.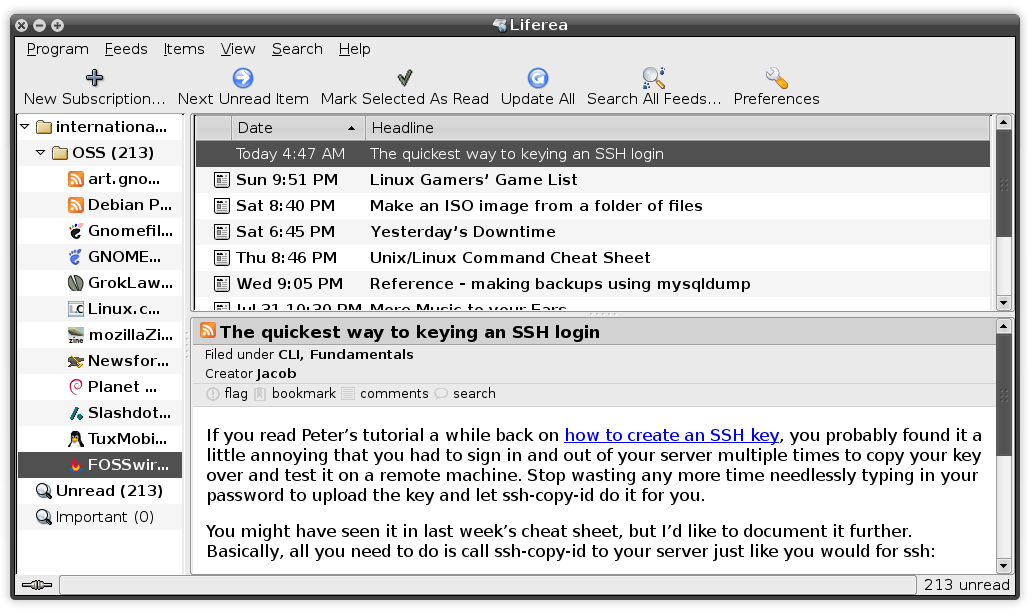 Liferea is actually a refreshingly simple and just plain intuitive and lightweight desktop feed reading application for Linux. If you're feeling bogged down with your current feed solution, or if you're not yet using feed technology, give Liferea a try. While you're at the feed reading game, make sure you're subscribed to us!