There are many different Dock-like launchers available for Linux these days, some of them better than others. One such program is Avant Window Navigator. It bills itself as:
Avant Window Navgator (Awn) is a dock-like bar which sits at the bottom of the screen (in all its composited-goodness) tracking open windows.
There are a couple of versions of Awn - the stable version and the BZR version, which is newer, but potentially a little buggy. For this review, I've downloaded the BZR version.
I thought I'd give Awn a try on my Kubuntu Feisty Fawn system (yes, it's designed more for GNOME, but works pretty much everywhere).
Unfortunately, I can't yet see Awn available in the Ubuntu repositories, so it is a case of adding the Awn repository into your apt setup. There are fairly clear instructions available here, but as with adding unofficial repositories the process can be a little bit geeky and potentially problematic. If you are comfortable doing this however, it is a really easy process to get Awn installed and up and running.
Once it's installed, you can launch it with the command avant-window-navigator.

By default, you'll get something that looks a little bit like the screenshot above. Each icon in the dock is one of your open windows and as you open more, more icons will appear. Click an icon to switch to that window - very basic stuff.
One of the good things about Awn is it will use any 3D acceleration and compositing support that you have setup to do smooth animations on the dock itself and features like transparency. If you don't have Beryl or Compiz or another compositing solution, however, Awn won't really work as intended.
Awn isn't just a bar of open windows though and has the capability to do a lot more. A right-click on a free area of the dock allows you to bring up the Preferences (also labelled as Awn Manager).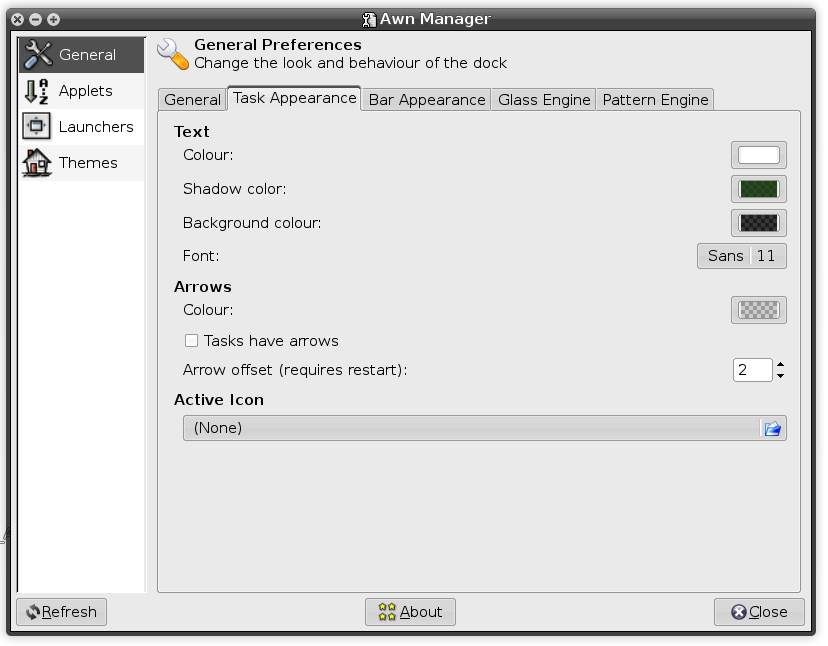 Inside this window you can select what components make up your Awn dock, through an 'Applets' system where you select what appears in your dock.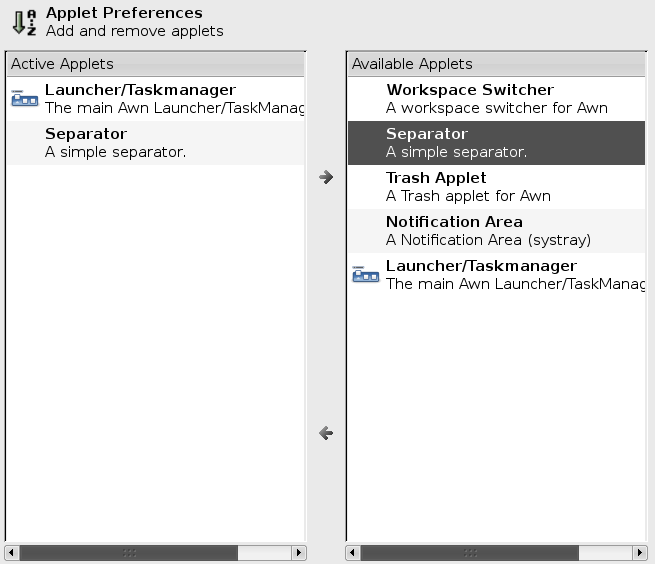 The Applets system works as a way to set up your dock, and is reasonably easy to get to grips with. However, something about it doesn't feel quite as intuitive as it could be. Maybe it's just me being very picky, but somehow it feels like the process should be easier.
Adding launchers (static icons that allow you to launch applications) is provided by a Launchers tab in the Awn Manager. Unfortunately, try as I might, I couldn't get the 'Add' button to do anything at all, so I was unable to test the Launcher element of Awn. This is probably a symptom of trying out the unstable version, so I won't hold it against Awn.
Most of the competing Dock-like applications for Linux don't have the native support and integration with compositing systems like Compiz and Beryl and in my opinion, this is where Awn really differentiates itself and excels. Unlike projects like Ksmoothdock (ironically) and Kooldock, animations in Awn aren't jerky and are generally very nice to look at.
It's not all about eye candy either - I've found Awn to be a very functional window management tool that is great if you're sick of the Windows-like taskbar metaphor for switching windows or just prefer to do it this way.
Awn is available pre-packaged for many different distributions on their download page, where the source code is also available.