Copy and paste is probably one of the most fundamental concepts in the GUIs we use today. Every modern operating system has some form of a 'clipboard' where you can temporarily store some information when you want to move or copy it from somewhere on your system to somewhere else.
Most clipboard implementations only have the ability to store one item in them, so if you copy and paste a lot having space for one item only can be frustrating. Add to that the fact that selecting any text when using X11 (the underlying graphical platform underneath Linux) copies it to the clipboard in the default configuration, you can easily lose what you wanted to copy.
Enter Klipper. Klipper is a clipboard history application for KDE that aims to avoid this and other problems by keeping a history of a customisable number of recent copy and pastes. Klipper is included with most KDE distributions, but if not, you can add it using your software management program.
Klipper runs as a background application and will put an icon like the one above in your system tray. Then it will sit there, dutifully keeping clipboard history.
When you want to retrieve something from your history, click the icon and select which entry you want from the menu. That entry will now be pushed to the top of the clipboard, so you can now paste as normal into any application.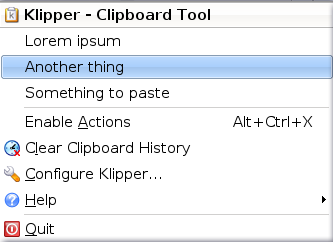 Alternatively, you can enable a keyboard shortcut to open the Klipper pop up menu when pasting (by default it is Ctrl-Alt-V).
To change the number of items saved and other settings, use the Configure Klipper option on the menu. It is also worth noting that if you have used the clipboard to store any sensitive information such as passwords, you may wish to clear out Klipper's saved entries by using the Clear Clipboard History option.
Klipper also offers more options, such as when copying a URL to pop open a menu with choices (open in various browsers, email the link etc.). This behaviour can also be configured.
However you use it, Klipper can be a real time (and sanity) saver if you do any tasks which involve copying and pasting data. Klipper is designed for KDE, but will work with almost anything. GNOME users may wish to try out similar application Glipper for better integration, however.