To be fair to them, Google are now producing quite a few desktop applications for Linux now. However, we don't yet have a Gmail Notifier application which runs in the background and shows you when you have new email in your Gmail inbox.
Even so, us Linux users aren't left out in the dark for Gmail checking programs as there are actually a couple of open source projects already that allow you to do just that. One of the most popular is CheckGmail, and it is the application I'm going to take a look at today.
CheckGmail is a nice graphical application that sits in your system tray just as the official Google Notifiers for Windows and Mac OS X do. Once you've got it downloaded and installed, you open it for the first time and simply enter your login information into the Preferences dialogue.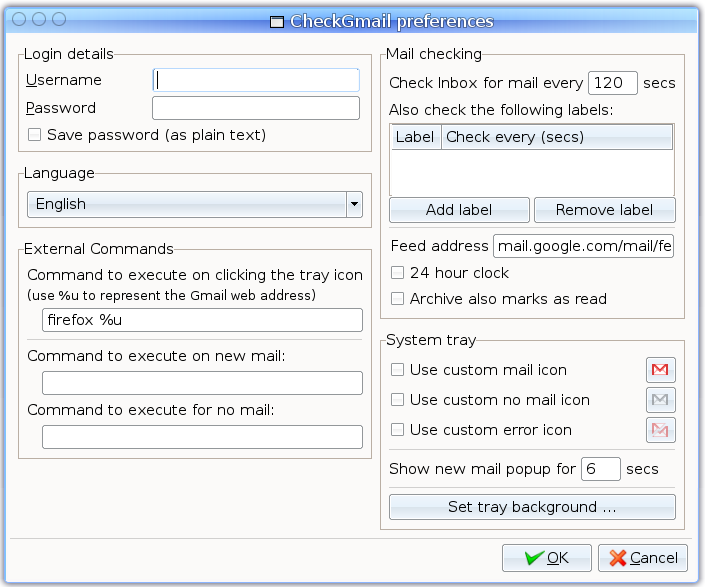 After that, it will simply sit in your system tray (which is probably somewhere at the top or bottom of the screen depending on your desktop environment and its settings).

When you get a new email through, CheckGmail pops up a little notification box, which you can click on (or click the tray icon) to show more information including a short snippet from the email.

It's a really neat, simple and elegant application in my opinion, and is a must for any Gmail and Linux user.
You can get yourself a copy of CheckGmail over at the official site where there is a generic binary version, pre-done packages for many distributions and of course the source code. It is worth mentioning that you should check in your distribution's software management program first as this will be a much easier way to get installed.
There's also some cool, but more advanced stuff you can do with CheckGmail, and you can find more information about this on the official FAQ page.