It's not often that you take a lot of notice of the calculator application in your operating system. For the most part, you can just pop it open, do a quick calculation and close it again.
However, if you do want a bit more flexibility, control and features than the average calculator application, you may want to take a look at SpeedCrunch.
SpeedCrunch is a calculator, but with a difference. It is jam-packed full of features and advanced stuff which may come in handy if you're cracking any big numbers on your desktop:
Few of its distinctive features are:


scrollable display
up to 50 decimal precisions
unlimited variable storage
intelligent automatic completion
full keyboard-friendly
more than 15 built-in math function
optional keypad
You can also view the full feature list for a comprehensive listing of what SpeedCrunch can do.
Even if you're only performing relatively simple calculations, SpeedCrunch's interface can be much better than competitors. I particularly find the history in the main pane of the application to be useful if I'm doing multiple calculations where I want to be able to see previous results.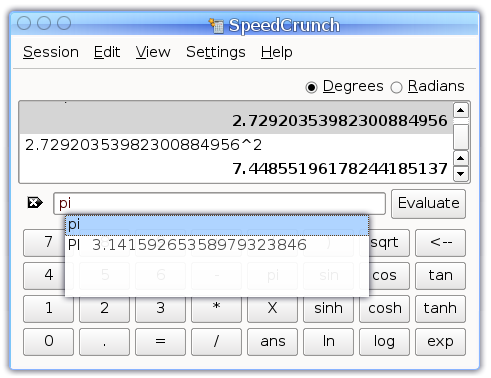 SpeedCrunch is, of course, free software and open source under the GNU GPL. It is also cross-platform and you can find versions for Windows, Linux and Mac OS X. You can download it from the SpeedCrunch site. Linux users will probably want to use your package manager, so search for 'speedcrunch'.