If you just can't choose between GNOME and KDE, or you just want a change of scenery every now and then, it's really easy to install multiple desktop environments and seamlessly switch between them.
It's really easy to install them - just use your distribution's package management system to add your desktop environment of choice.
It's not always clear, however, how you actually go about choosing one to use on a particular login.
First of all log out so that you are back at the standard login screen. You'll need to look for either a Session button or an Options button with a Session on its submenu. If you click on this, you should get a list of choices which looks something like this: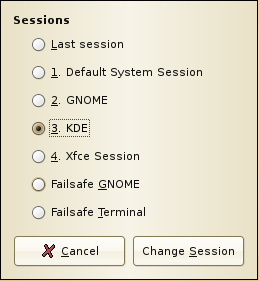 Simply choose one, and login as normal.
If you're not very experienced with Linux, I'd recommend avoiding the Failsafe ones (they're usually just a terminal in a window). If you do get stuck in one, just type exit and press enter (then log in again after choosing your normal desktop environment from the same menu).
Remember - if you don't get multiple choices, you need to actually install the desktop environment first!