Here's a quick tip for all OpenOffice.org Writer users - how to make Writer build an automatic table of contents for you. I find this invaluable when working on big documents, as it saves me the time of going through the document and manually typing up the contents, and it handles all the page numbers etc. for you.
The only prerequisite for this is that your document must make use of the built-in Heading styles (i.e. Heading 1, Heading 2) for all the headings in your document that you want to appear in the ToC. Of course you can customise what your headings looks like - just hit F11 and right-click a style and choose Modify.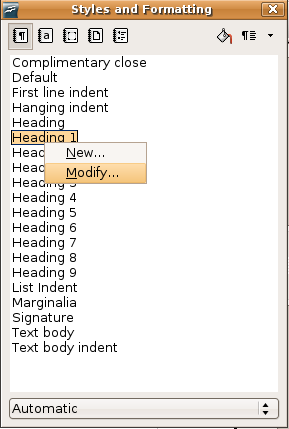 Once your document is set up, put the cursor where you want the table of contents to appear and choose Insert > Indexes and Tables > Indexes and Tables.

Choose Table of Contents under Type, then untick Protected against manual changes. Power users can explore the other options and customise the table to their heart's content. When you're done, click OK and enjoy!
One minor issue to remember - after you've changed the order of your document, always right-click the Table of Contents and choose Update Index/Table or else the changes to the document won't be in sync with the Table.